The first day of the school year is a very exciting and important day! I know my daughters are / were always very excited to start a new grade and I am sure they are not alone. As a parent I was proud of the new milestone they were achieving. As a teacher I was always excited to meet and get to know the new students I would work with for the coming year. It is an exciting day and one to celebrate. These free first day of school signs help you do that.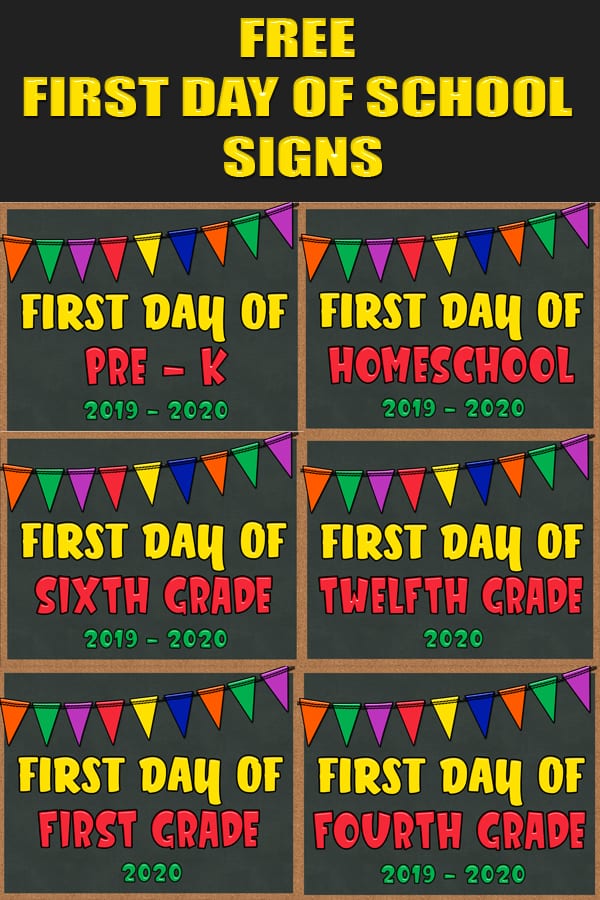 The signs include the first day of Pre-K, Kindergarten, Grades 1 – 12 and the first day of homeschooling. The 2019 – 2020 are available in US letter size and the 2019 – 2020 and 2020 are available in A4. Both sizes have pdf and jpg files.
How to Use the Free First Day of School Signs
The free first day of school signs can be used in multiple ways. Use them as a photo prop, in both your traditional and digital scrapbooking, as planner stickers, home decor or as a teaching resource.
As a Photo Prop
I have never needed an excuse to take a photo of my children, however the first day of school is always a good excuse if you need one. Have you child hold the sign for a great first day of school photo. Teachers can do the same thing with their students as they get to know each other. It can also be used for a bulletin board display surrounded by your students photos.
In your scrapbooking
Just as I love taking photos, I love scrapbooking my photos! Going through scrapbooks of past years is always a highlight, sharing them with our family. Use the sign as a design element. Print it off to use in traditional scrapbooking or as a jpg in digital scrapbooking.
In your digital or traditional planner
Turn the signs into planner stickers. Use it in your planner to highlight the day.
Framed
Frame the sign and set it on the breakfast table to start the day off with excitement and to acknowledge the special day that it is.
Downloads
Download the signs HERE.
Enjoy your downloads!