Easter is a fun time to craft. Whether you make Easter egg crafts like egg decoupage, make Easter cards or create your own Easter stickers you will find free resources here on Chantahlia Design. Scrapbooking your Easter celebrations is also a fun craft to keep your family memories alive. Here on Chantahlia Design, you will discover free Easter digital paper and design element packs you can use to make your Easter crafts.
Each of the free Easter themed packs below includes digital paper, design elements and alphas. Scroll down to find all the Easter themed packs available. They are all 300 dpi for commercial quality printing .
Click on the images to be taken to each sets download page.
Cute Easter Digital Paper and Design Element Sets
Easter Bunnies
Easter Bunnies are synonymous with Easter. Who can resist an Easter bunny? These cute Easter bunnies will add that extra cute factor to your crafts and design projects.
Easter Chicks
Chicks are also synonymous with Easter. New life is a key theme of Easter and a baby chick along with eggs are a great symbol of new life. These cute chicks with Easter eggs are bright and fun for your crafts and designs.
Easter Egg Hunt
Easter morning is so much fun with an Easter egg hunt. No matter how many people are involved, hunting for eggs brings something special to the day. This set includes a cute bunny, cars full of eggs and signs for the hunt.
Easter Faith Digital Paper and Design Element Sets
Easter Story
The Easter Story pack contains the characters of the First Easter. From Jesus to the Centurions, the people involved in the Easter story are included as well as crosses and a crown of thorns. Celebrate your faith with these digital papers and design elements.
Holy Week
The Holy Week Set includes Religious symbols to celebrate the week of Easter. From Palm Sunday to Easter Sunday, there are brads, design elements and word snippets for use in your craft and design projects. There are also matching digital papers, washi tape and alphas in this religious set.
Easter Faith
The Easter Faith Pack includes symbols of the Christian faith as well as flowers. Use it for your scrapbook pages and other digital and paper crafts.
Rustic Easter
The Rustic Easter Set features wood designs. It includes Easter Eggs, crosses and flowers and is a unique Easter look.
Chocolate Easter Digital Paper and Design Element Set
The Chocolate Easter Set includes Chocolate Easter Eggs and Baskets and is a fun pack to include in your designs and crafts
Stand Alone Digital Papers and Design Elements
Aside from the sets above there are many other Easter digital paper and design elements on Chantahlia Design. Below are some examples. You can find every Easter HERE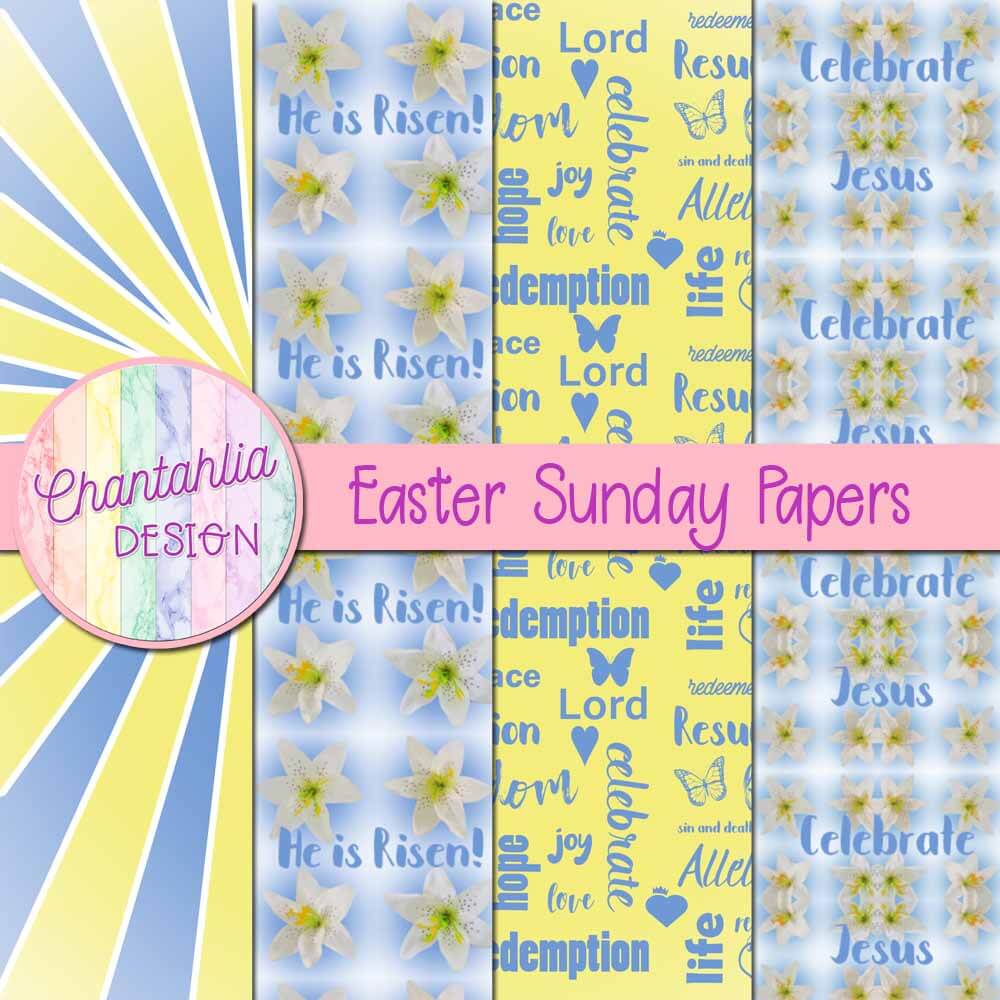 Easter is just one theme available on Chantahlia Design. If you are looking for other themes click through HERE to see all the sets